You grow it ~ We mow it!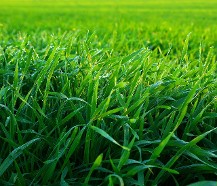 And weed it . . . and feed it . . . and edge it . . . and fix it . . . and plant it . . . and whatever else it takes to give you the lawn you want - - - without the hard work you don't.
Let us worry about fighting the weeds; feeding the lawn; filling in bare spots; finishing off damaging bugs; and fixing compacted soil with aeration. You water. We'll do the rest. We've got the experience and expertise to save you money, guesswork and uncertainty when you try to fix your lawn on your own. One or two treatments may not be enough; we'll do it whenever your lawn needs it.
Call us for a free evaluation of the problems you have with your lawn. We'll tell you if it's the grass, shade, need for fertilizer, or insects that may be present and keeping your lawn from being its best. Then we'll work with you to develop a custom program of fertilizing, aeration, weed and insect prevention that fits your budget.
And we work even when you're not there. Go to work or go on vacation - it's OK - we'll still do what we agreed when we agreed we would. A thick, green, healthy lawn requires the right treatment in the right amount applied at the right time all through the season. Renting professional equipment is expensive. But our professional lawn service people have all the right equipment and know how to use it so your lawn is beautiful, and with less waste ~ which means you actually save money in the end.